GEVONTA DAVIS AND ADRIEN BRONER TRAINING SIDE BY SIDE AT CUNNINGHAM GYM PUTTING IN SERIOUS WORK
CANELO FACEOFF WITH TRIPLE G AT PRESSER FOR THERE REMATCH IN MAY
SWIFT JARRETT HURD TALKS UPCOMING UNIFICATION WITH ERISLANDY LARA: "DONT RUN NO MORE"
SWIFT JARRETT HURD WORKS ON NECK MUSCLES FOR HIS UPCOMING CLASH WITH ERISLANDY LARA
ADRIAN DAVIS TALKS GIVING JARRETT HURD A HELPING HAND WITH HIS UPCOMING CLASH WITH LARA
SWIFT JARRETT HURD DOES MITTS WITH ADRIAN DAVIS IN PREPARATION FOR LARA CLASH
JOSE BENAVITEZ (CLAPS) BACK AT TERRANCE CRAWFORD: LETS MAKE IT HAPPEN OR YOU GONNA KEEP DODGING ME"
TERRANCE CRAWFORD CONFRONTS AND SEND THREAT TO JOSE BENAVITEZ AND TELLS HIM "COME OUTSIDE"
AMIR KHAN ALMOST GETS INTO A FIST FIGHT WITH PHIL LO GRECO AT PRESSER
AMIR KHAN FACEOFF WITH PHIL LO GRECO AT PRESSER IN LIVERPOOL
TORI NELSON TALKS SHIELDS VS CHRISTINA HAMMER: "CLARESSA IS FROM ANOTHER BREED, HAMMER IS A RUNNER"
TORI NELSON TALKS LAST FIGHT WITH CLARESSA SHIELDS; RING RETURN IN A COUPLE OF MONTHS
ERROL SPENCE TELLS KEITH THURMAN AFTER HIS POSTFIGHT WIN MEAL OVER PETERSON: IMA SMOKE HIM....EASY
KELL BROOK TALKS SERGEY RABCHENKO CLASH: "HE'S A TOUGH OPPONENT AND HE COMES TO FIGHT"
KELL BROOK WANTS TO FIGHT AMIR KHAN SAYS "HOPEFULLY WE CAN MAKE THE FIGHT HAPPEN"
KEYSHAWN WILLIAMS FEELS PEOPLE ARE UNDERESTIMATING LAMONT PETERSON; A LOT OF BODY PUNCHING
KEYSHAWN WILLIAMS TALKS ABOUT TOMMOROW CLASH WITH DENIS OKOTH,BEING ADVISED BY AL HAYMON & MORE
KEYSHAWN WILLIAMS WEIGHS IN AND FACEOFF WITH DENIS OKOTH
DILLIAN WHITE TRADE WORDS WITH LUCAS BROWN: "DO YOU THINK YOU CAN COME TO MY CITY AND PUNCH ME?"
DILLIAN WHITE FACEOFF WITH LUCAS BROWN AT PRESSER
ANTHONY JOSHUA TELLS JOSEPH PARKER "IT WILL TAKE MORE THAN A HUMAN TO STOP HIM"
ANTHONY JOSHUA AND JOSEPH PARKER FACEOFF AT PRESSER
SUGAR RAY LEONARD PRODIGY DARON WILLAIAMS BANGS AQUA BAG AS HE AWAITS RING RETURN
SUGAR RAY LEONARD BROTHER KENNY TALKS ABOUT PUTTING ON NEXT CARD IN FEBRUARY OR MARCH
SUGAR RAY LEONARD PROMOTIONS 122LB DARON WILLIAMS 6 -0 KO3 TRAINING FOR NEXT FIGHT
ANTHONY JOSHUA VS. JOSEPH PARKER FINALIZED FOR MARCH 31 AT CARDIFF'S PRINCIPALITY STADIUM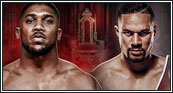 CLARESSA SHIELDS DOMINATES TORI NELSON IN UNANIMOUS DECISION WIN: "I'M GOING TO KICK HAMMER'S ASS"
FRANCHON CREWS WIN OVER TIFFANY WOODARD ROUNDS 1 AND 6
FRANCHON CREWS (INTENSE) FACEOFF WITH TIFFANY WOODARD AFTER WEIGH IN
BARRY HUNTER EXPLAINS WHY LAMONT PETERSON GAVE UP WBA BELT
TO PAY SANCTIONING FEE FOR IBF
LAMONT PETERSON WORKS ON THROWING HARD SHOTS AT HEAVYBAG AUQABAG; READY FOR ERROL SPENCE
LAMONT PETERSON DROPPING "BOMBS" AHEAD OF HIS CLASH WITH ERROL SPENCE
ANTHONY PETERSON TALKS COMING BACK AFTER ALMOST 2 YEARS OUT THE RING AGAINST LUIS FLORES
LAMONT PETERSON TALKS ABOUT SUGAR RAY LEONARD COMING TO THE GYM "MOTIVATION"
ANTHONY PETERSON PUTTING IN WORK FOR LUIS FLORES ON JANUARY 20TH
LAMONT PETERSON TRAINS HARD FOR ERROL SPENCE FOR JANUARY 20TH
AMIR KHAN TALKS RING RETURN ON APRIL 21ST IN THE UK WITH EDDIE HEARN
ADRIEN BRONER WARNS OMAR FIGUEROA & AMIR KHAN AND APOLOGIZES TO SHOWTIME
DAVID HAYE ADMITS IN 2018 MAY BE HIS LAST YEAR AND LOOK TO GO OUT WITH FIREWORKS
DANNY GARCIA PUTS BRANDON RIOS AND THE WHOLE 147LB DIVISION ON NOTICE "2018 A LOT OF ASS WHIPPINS"
HANK LUNDY CONFIRMS FIGHT WITH DEMARCUS CORLEY FEBRUARY 10TH: "IM ON YOUR ASS"
JORGE LINARES TRAINING HARD FOR MERCITO GESTO ON JANUARY 27TH
ANTHONY PETERSON TRAINING HARD FOR LUIS FLOREZ ON ERROL SPENCE VS LAMONT PETERSON UNDERCARD
ROY JONES STATES TO THE FANS HIS FINAL FIGHT ON FEBRUARY 8TH IN PENSACOLA "MY LAST DAY AT THE BAY"
DANNY GARCIA VS. BRANDON RIOS AND DAVID BENAVIDEZ VS. RONALD GAVRILL II OFFICIALLY ANNOUNCED FOR FEBRUARY 17
ANTHONY JOSHUA SPEAKS AFTER OKOLIE AND CHAMBERLAIN TRADE WORDS
LAWRENCE OKOLIE TRADE WORDS AS HE FACEOFF WITH ISSAC CHAMBERLAIN
ROBERT EASTER LOOKING FAST AND SHARP AS HE GETS READY FOR JAVIER FORTUNA ON JAN 20TH IN NY
DEMITRIUS ANDRADE SENDS STERN MESSAGE TO BILLY JOE SAUNDERS FOR A FIGHT
JARRETT AND JUSTIN HURD TAKES PICTURE WITH FAN AT HOLIDAY TOY DRIVE
JARRETT HURD AND JUSTIN HURD ARRIVE AT HOLIDAY TOY DRIVE
JARRETT HURD FEELS THAT LOMACHENKO SIZE WAS A FACTOR AGAINST RIGONDEAUX; SURPRISED THAT HE QUIT
JARRETT HURD COMPARES SPENCE VS PETERSON CLASH TO KELL BROOK VS ERROL SPENCE CLASH
JARRETT HURD TALKS CLARESSA SHIELDS VS TORI NELSON CLASH; FEELS SHIELDS WILL STOP NELSON LATE
JARRETT HURD FEELS FARMER GOT ROBBED WITH OGAWA & TELLS FARMER "KEEP YOUR HEAD UP"
JARRETT HURD TALKS ABOUT TKO WIN OVER TROUT AND FIGHTING MANDATORY CHALLENGER IN MARCH
TEVIN FARMER VS OGAWA ROBBERY THOUGHTS BY JR THE GOLDENBOY
LOMACHNKO VS RIGONDEAUX POSTFIGHT THOUGHTS BY DON HOLLINGSWORTH
UBF WELTERWEIGHT CHAMP MYKE FOX TALKS UPCOMING MIGUEL COTTO LAST FIGHT WITH SADAM ALI
AUSTIN TROUT THANKS MIGUEL COTTO FOR GREAT FIGHTS OVER THE YEARS; ALSO CALLS OUT SADAM ALI
AVERY SPARROW FEELS MIGUEL COTTO LAST FIGHT WITH SADAM ALI WILL BE LIKE "SKILL VS HUNGER"
MIGUEL COTTO WEIGHS IN AND FACEOFF WITH SADAM ALI FOR LAST FIGHT OF CAREER
B HOP TAKING PICTURES WITH FANS; GETTING A LOT OF LOVE AT MGM NATIONAL HARBOR
AVERY SPARROW TALKS AFTER ONE SIDED VICTORY OVER EXPERIENCED JOSE LOPEZ AT MGM NATIONAL HARBOR
LUTHER SMITH TALKS KNOCKING DOWN CAPERS IN ROUND 1 BUT LOSING A SPLIT DECISION
BOXING STAR MYKE FOX TALKS DEFEATING MANUEL REYES AND WINNING UBF ALL AMERICA'S WELTERWEIGHT TITLE IN
BERNARD HOPKINS MEETING (9 - 1 KO8) LUTHER SMITH AND EXPECT A K.O FROM HIM TOMORROW NIGHT
LAMONT ROACH FACEOFF WITH REY PEREZ AT WEIGH IN
LUTHER SMITH FACEOFF WITH LAMONT CAPERS AT WEIGH IN
CHRIS EUBANK JR FACES OFF WITH GEORGE GROVES
UK'S FAST RISING LIGHT HEAVYWEIGHT ANTHONY YARDE SHOWS GREAT POWER AS HE PREPARES FOR DECEMBER 9TH
JORDAN WHITE TALKS CLARESSA SHIELDS VS TORI NELSON CLASH; FEELS SHIELDS WILL KNOCKOUT NELSON
JORDAN WHITE TALKS MIGUEL COTTO VS SADAM ALI CLASH: "SADAM HAS EDGE"
SERGEY KOVALEV INTENSE FACEOFF WITH VYACHSLAV SHABRANSKYY AT WEIGH IN
JORDAN WHITE (BLAST) MITTS WITH HIS DAD AS HE GETS READY FOR COMEBACK IN 2018
LAMONT ROACH TALKS CLARESSA SHIELDS VS TORI NELSON SHOWDOWN: I DON'T SEE CLARESSA LOSING IN HER CAREER
TANK DAVIS FEELS FANS ARE UNDERESTIMATING LAMONT PETERSON AGAINST ERROL SPENCE: "LAMONT IS A DOG"
TANK DAVIS TALKS MIGUEL COTTO LAST FIGHT WITH SADAM & FEELS SADAM IS WORTHY OF FIGHTING COTTO
TANK DAVIS BREAKDOWN WILDER VS JOSHUA FUTURE CLASH: "ITS A TOSS UP; A 50/50 FIGHT"
TANK DAVIS TALKS LOMACHENKO VS RIGONDEAUX CLASH: "ITS A GREAT FIGHT FOR THE SPORT"
GERVONTA DAVIS TALKS TEVIN FARMER FIGHTING FOR HIS BELT & POSSIBLE MATCH UP IN 2018: "ITS PERSONAL"
GERVONTA DAVIS TALKS AFTER GIVING TURKEYS TO PEOPLE IN NEED: "IT FEELS GREAT"
GERVONTA DAVIS GIVES AWAY TURKEYS TO THE LESS FORTUNATE
GERVONTA DAVIS PULLS UP IN BENZ 668 TRUCK AT TURKEY GIVEAWAY IN BALTIMORE
LAMONT ROACH TALKS ALI VS COTTO CLASH: "COTTO WILL PROBABLY KNOCK HIM OUT"
LAMONT ROACH FEELS LOMACHENKO IS TOO BIG AND WILL KNOCKOUT OUT RIGONDEAUX
ANTOINE DOUGLAS AND GARY O'SULLIVAN SQUARE OFF IN CO-MAIN EVENT FOR SAUNDERS VS. LEMIEUX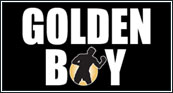 LAMONT ROACH TALKS LAMONT PETERSON VS ERROL SPENCE CLASH; "WHO EVER GETS HURT FIRST IS GONNA LOSE"
MIGUEL COTTO SHOWS HE STILL GOT IT BLASTS MITTS WITH FREDDIE ROACH
LAMONT ROACH BANGS AQUA BAG AS HE PREPARES FOR REY PEREZ NOVEMBER 30TH
JORDAN WHITE SAYS RIGONDEAUX IS HIS FAVORITE FIGHTER BUT GIVES EDGE TO LOMACHENKO BECAUSE OF SIZE
JORDAN WHITE TALKS LAMONT ROACH VS REY PEREZ CLASH: "LAMONT IS READY; NOTHING BEATS HARD WORK"
DEVIN ALEXANDER FACEOFF WITH CASTILLO AFTER A 2 YEAR LAYOFF
MIGUEL CRUZ WEIGH IN WITH DAVID GRAYTON AND SERIOUS FACEOFF
LAMONT ROACH SHOWS HAND SPEED ON SPEED BAG AS HE PREPARES FOR REY PEREZ ON NOVEMBER 30TH
LAMONT ROACH JR TALKS UPCOMING CLASH WITH REY PEREZ NOVEMBER 30TH; VOWS TO KNOCK HIM OUT!!